ASOCOPI AWARDS
Clare De Silva Award
In 1990, the Board of Directors of ASOCOPI decided to create a special award for individuals and/or institutions who had devoted their lives to strengthening and enriching the Association.
The name chosen was CLARE DE SILVA in honor of one of our Founding members and first President of ASOCOPI.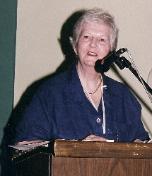 1990
Hugo Acosta, Howard Rochester, Mary Ann Wallenberg, Alberto Assa
1992
Alicia Gutiérrez, Jon Tanaka, Herbert Hilsen, Lino Betancourt, Kitty Marchetti
1997
Centro Colombo Americano Bogotá
2000
Oscar Zuluaga, Ignacio Mejía
2001
Ricardo Romero, Fernando Silva
2002
Rigoberto Castillo, Jesus Alirio Bastidas
2004
Centro Cultural Colombo Americano Cali
2005
Cultural Afffairs Office, American Embassy
2007
Gloria Cardona Tobón
2008
Escuela de Idiomas de la UPTC, Tunja
2009
Centro Colombo Americano Medellín
2010
Zoraida Jessie Hudson
2012
Licenciatura en Educación Básica con Énfasis en Inglés de la Universidad Distrital "Francisco José de Caldas"
2014
Editorial Pearson COLOMBIA
Members of ASOCOPI for more than 10 years with outstanding contributions to the Association Or Outstanding participation in regional organizations with national impact for the Association Benefactors, national or international institutions contributing to the betterment of English Language Teaching in Colombia or Scholars whose academic work has generated important and positive changes in the ELT community in Colombia.
NOMINATIONS should be sent directly to the Board of Directors of ASOCOPI at least 4 months prior to the Annual Conference, including a summary of the Curriculum vitae and a letter sent by an active member
ASOCOPI'S BEST UNDERGRADUATE AND GRADUATE THESIS AWARD 2019
This year Asocopi launches the Best Undergraduate and Graduate Thesis Award as a way to promote and reward outstanding contributions of novice researchers to the field of ELT in Colombia. The award recognizes the best undergraduate thesis (also called Trabajo de Grado) and graduate thesis from institutions based in Colombia. The winners in each category will receive an award, which consists of an inscribed plaque and a gift sponsored by one of Asocopi's partners. The recipients of the award will be announced during the Asocopi Conference.
PLEASE SUBMIT YOUR WORK FOR ASOCOPI'S BEST UNDERGRADUATE AND GRADUATE THESIS AWARD 2019