NEWSLETTER
Find the latest information about our Special Interest Groups SIGs. We'll keep you connected with our ASOCOPI upcoming events.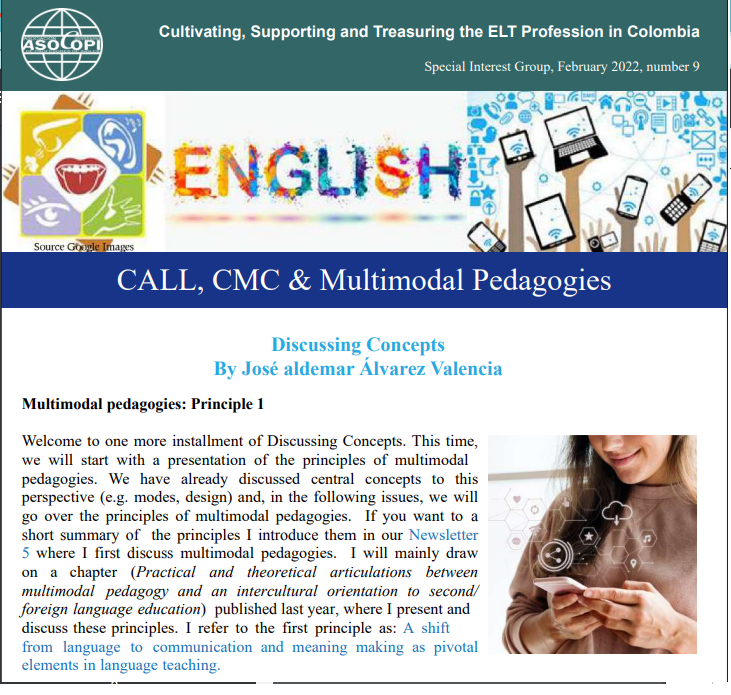 Welcome to one more installment of Discussing Concepts. This time, we will start with a presentation of the principles of multimodal pedagogies. We have already discussed central concepts to this perspective (e.g. modes, design) and, in the following issues, we will go over the principles of multimodal pedagogies. If you want to a short summary of the principles I introduce them in our Newsletter 5 where I first discuss multimodal pedagogies. I will mainly draw on a chapter (Practical and theoretical articulations between multimodal pedagogy and an intercultural orientation to second/foreign language education) published last year, where I present and discuss these principles. I refer to the first principle as: A shift from language to communication and meaning making as pivotal elements in language teaching.
FEB/ 2022
ASOCOPI CALL,CMC & MULTIMODAL PEDAGOGIES SIG NEWSLETTER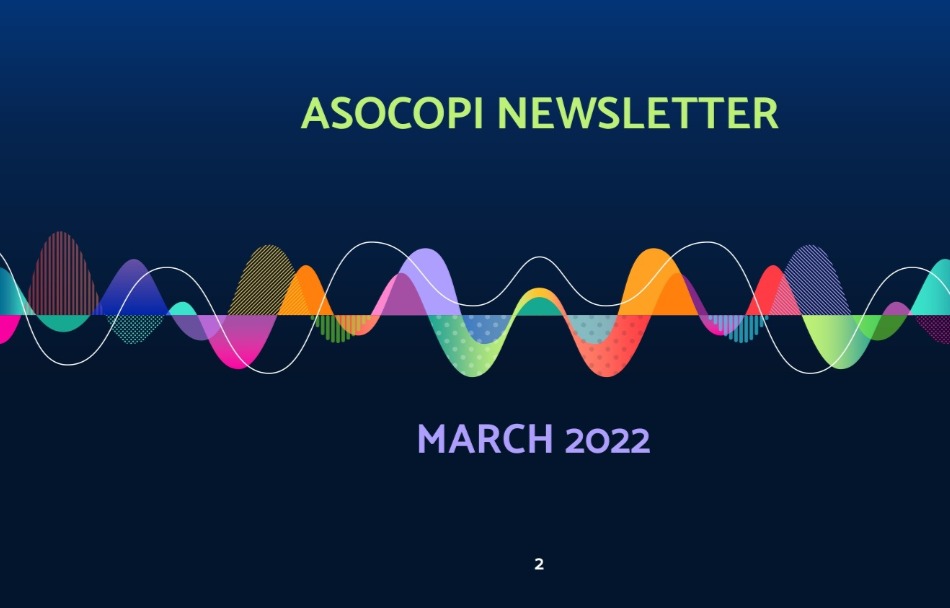 Materials Development and Didactics as a Special Interest Group continues encouraging teachers to walk through the path as material developers that go beyond the EFL class settings to embrace profound and not always visible sociocultural dynamics. Throughout my experience as a language learner, materials developer, teacher educator and researcher, my perspective of teaching the English language and culture has change. This implies, moving away from teaching English using meaningless global EFL textbooks underpinned by top-down teaching methods and approaches, which overlook students' complex experiential culture, endorsing a reductionist view of culture as a static, monolithic, and immutable phenomenon. Moreover, textbook content neither regards our students' genuine realities and concerns nor contemplate high order thinking- oriented learning activities and strategies.

MARCH/ 2022
ASOCOPI Materials Development and Didactics SIG NEWSLETTER



FEB/ 2022
ASOCOPI MATERIALS DEELOPMENT AND DIDACTICS SIG
NEWSLETTER
READ MORE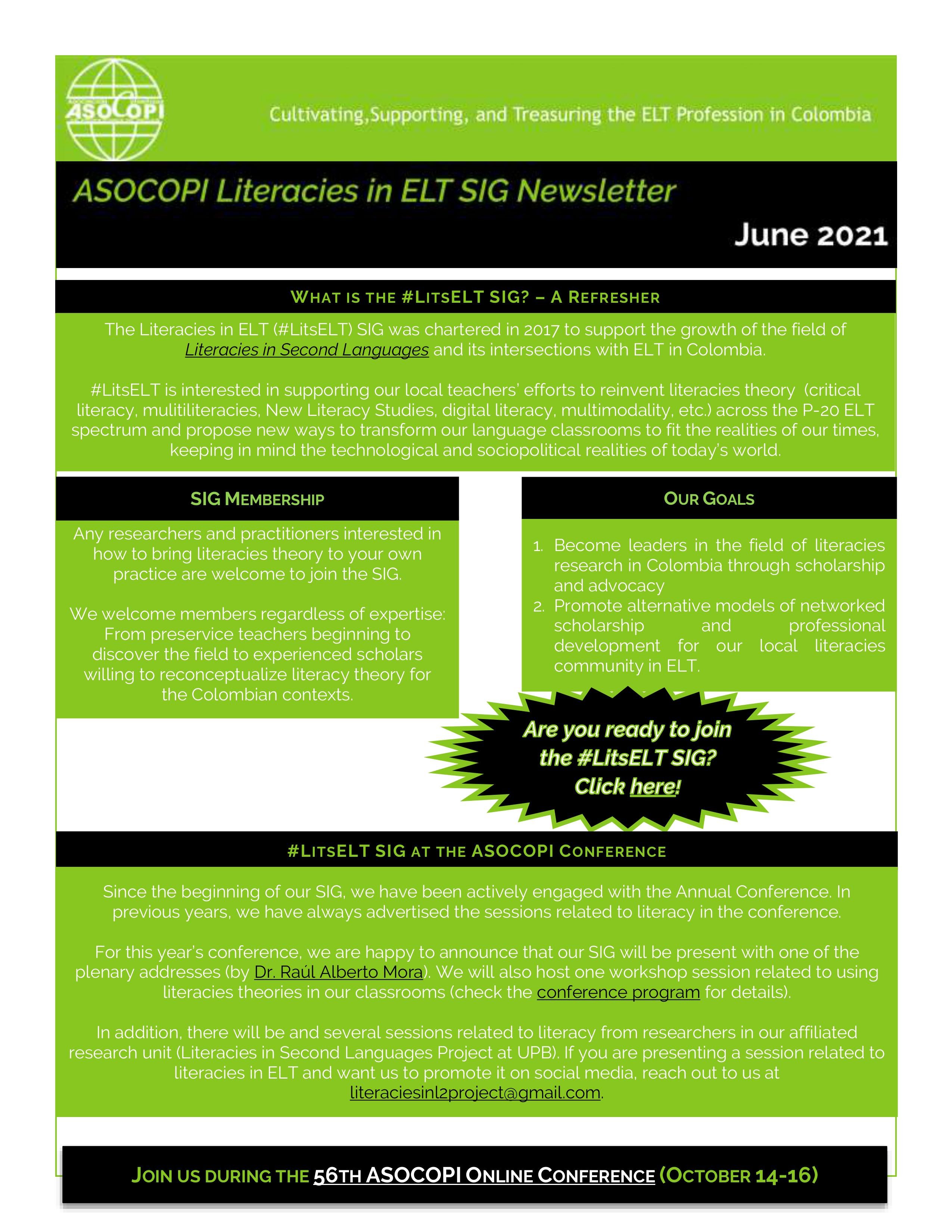 The Literacies in ELT (#LitsELT) SIG was chartered in 2017 to support the growth of the field of Literacies in Second Languages and its intersections with ELT in Colombia. #LitsELT is interested in supporting our local teachers' efforts to reinvent literacies theory (critical literacy, mulitiliteracies, New Literacy Studies, digital literacy, multimodality, etc.) across the P-20 ELT spectrum and propose new ways to transform our language classrooms to fit the realities of our times, keeping in mind the technological and sociopolitical realities of today's world.
JUNE/ 2021
The Literacies in ELT SIG
NEWSLETTER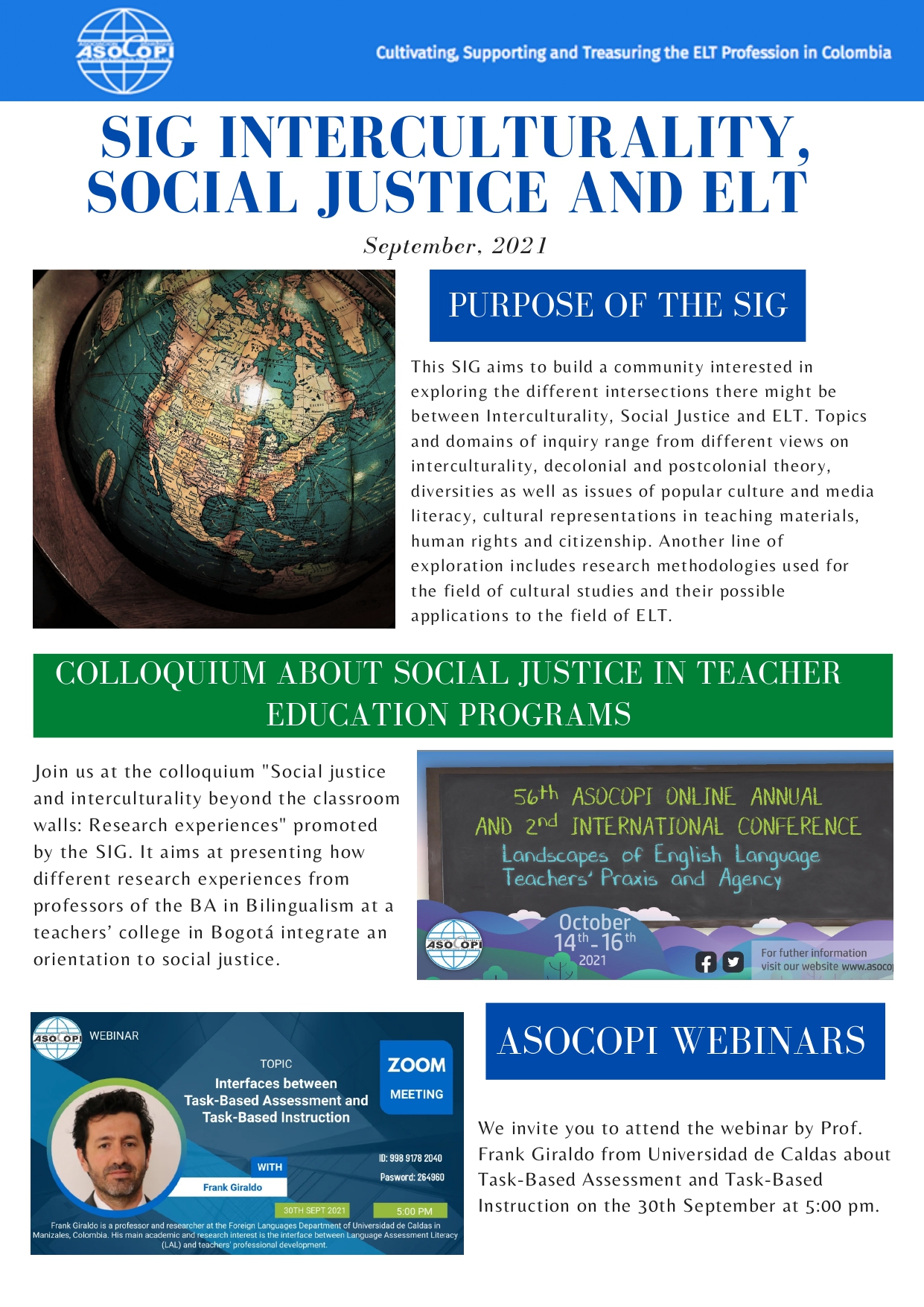 This SIG aims to build a community interested inexploring the different intersections there might bebetween Interculturality, Social Justice and ELT. Topicsand domains of inquiry range from different views oninterculturality, decolonial and postcolonial theory,diversities as well as issues of popular culture and medialiteracy, cultural representations in teaching materials,human rights and citizenship. Another line ofexploration includes research methodologies used forthe field of cultural studies and their possibleapplications to the field of ELT.

SEPT/ 2021
SIG INTERCULTURALITY, SOCIAL JUSTICE AND ELT SIG
NEWSLETTER